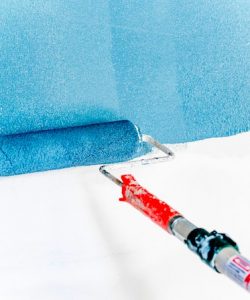 Think That's All There Is To It?
Just walk into the big box paint store and walk out with the perfect paint to go on the walls?
Well, that would be great, but besides the overwhelming choice of "what color" you're going to have decide what kind of finish? Choose the wrong finish and the color goes from perfect to YECH!!
So here are the different kinds of paint finishes you should consider.
MATTE FINISH (Flat)
As the name would suggest this has a flat finish to it. It's usually used on interior walls and is great for camouflaging small imperfections in the wall like bumps or cracks because it does not reflect light. This paint might scratch easily, so keep some paint on hand to make minor repairs to the walls. Ceilings can be painted with a matte finish because it's not going to have any wear or tear.
FLAT ENAMEL
This finish can stand up to a good scrubbing so use this paint in bath rooms and hallways.
EGGSHELL
This paint has a very slight gloss to it, kind of like an eggshell, therefore the name. Unlike its name though this is a sturdy paint which holds up better than flat paint. So go ahead and put it on your walls and fear not when it comes to cleaning the walls.
SATIN
For a more velvety look with very little shine try the satin finish. This is a great paint to use in high traffic areas. Kid's bedrooms do well with a satin finish. Try it in kitchens or bathrooms too.
SEMI-GLOSS
You don't really want to put a semi-gloss paint on the walls. This is best for trim or painting cabinets. It has a little gloss to it, but not too much to be distracting. It's important to prepare the surface properly before applying because every little flaw will be highlighted by the slight glossiness to this paint.
GLOSSY
This is a reflective paint. It's not used much for interiors, but for a dramatic effect it can be used on trim, cabinets, and furniture. It gives almost an enamel/plastic look. But be aware any imperfections in the surface are going to be highlighted with this finish so make sure you prepare the surface well or you'll be disappointed with the outcome.
Always remember, the key to good painting is going to be proper preparation. It doesn't matter what kind of paint you use if you ignore the preparation of the surface.
www.scpcpaintcompany.com
Office 928-634-1077
Cell 928-821-1645