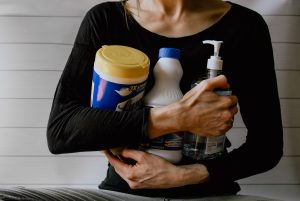 One thing COVID-19 has really brought front and center is the importance of keeping ourselves and homes extra clean. According to WEBMD.com, the virus can live on surfaces like wood, metal, and even paper for up to 5 days.In your quest to keep your home clean and healthy have you looked at your interior paint lately, I mean really looked at it?Over time dust, cooking oils, fingerprints and even sunshine all conspire to tarnish the luster of your once beautiful paint.So here are some "honey-do" tips that can freshen up your house and brighten the interior.Working from the top of the wall downward.
DUST BABY DUST
I have found a coarse Swiffer type dust mop works really well. Plus the long extension handles you can purchase helps keeps you safe and off of rickety step ladders.
RUBBA-DUB-DUB
Make a mild detergent solution from a neutral product like Dreft detergent. Use a microfiber cloth that you can attach to the dust mop head and be sure it is only damp, not dripping with water, as that is not good for your paint and will leave maddening water streaks down your wall.
GRANDMAS FAVORITE FIX-IT
In the kitchen and dining area, you will find some additional challenges such as; food splatters, grease stains, and maybe some crayon souvenirs from your grandkids. If the stain won't budge with soapy water, stir up a mixture of baking soda and water. I remember my Mom putting that slurry on my ant bites and bee stings when I was but a wee lad. Don't scrub hard just use a light circular motion and let the mild abrasive action break down the stain. Also, be sure to wipe the area clean with a damp cloth otherwise your walls could end up looking a bit spotty when the treated area dries.
DINGS AND SCRATCHES
Hopefully, you kept some interior paint or have the paint code written down somewhere. Grab a small can of Spackle, a putty knife, and some light sandpaper and get into your homeowner fix-it mode. When painting the area don't be surprised if the color is not spot-on if your paint has not been freshened in some time. If all this sounds great but, you would rather have the pros give your home's interior a new coat of paint that will last for years then give us a call or send us an email ( scpcpaintco@hotmail.com ) and SCPC Paint Company would be delighted to provide you a prompt, no-obligation quote.
If you are searching for Sedona licensed painters or, licensed painting contractors near me, we invite you to consider SCPC Painting Company. We have been Sedona's house painters of choice for over 20 years. We provide both exterior and interior house painting in Sedona, Cottonwood, Jerome, Clarkdale, Page Springs, Village of Oak Creek and Camp Verde.
www.scpcpaintcompany.com
Office 928-634-1077
Cell 928-821-1645
Tags:   sedona licensed house painters, sedona house painters, sedona exterior painting, home painter, sedona interior painting, painting contractor, residential painter, house painters, Insured house painting company, interior house painting. cottonwood licensed house painters, cottonwood house painters, cottonwood exterior painting, home painter, cottonwood interior painting, cottonwood painting contractor, Home Painter, Interior Painting, Professional Painters, Residential Painter