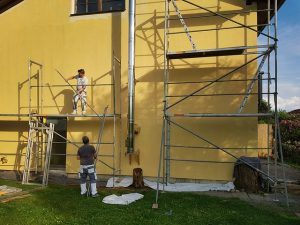 Your house is among your most valuable possessions. The roof over your head brings you comfort and peace of mind. So, protecting your home when choosing a painting contractor is your responsibility.
STEP ONE: Do an Internet search for "Arizona Registrar of Contractors" and click on "Contractor Search". Type in the name of the painting company and you will be able to easily verify their standing with the state.
STEP TWO: Obtain a Comprehensive Estimate. You should have an item by item quote that aligns with your budget. of course, barring any unforeseen circumstances.
STEP THREE: Never, ever, pay the entire cost of your project upfront no matter how nice the person seems or how heart-wrenching their story. Home improvement SCAM artists abound here in Arizona so, let the buyer be aware!
STEP FOUR: Get a Copy of Their Satisfaction Guarantee Writing. A professional contractor who values your business now and in the future should have no problem with providing complete customer satisfaction in writing.
STEP FIVE: Obtain a verification that their insurance is in force. This protects you and your family, just in case someone is hurt during the work. It's OK to ask about the safety measures they implement. Making sure the licensed painting contractor has the proper safety steps in place will provide you with peace of mind.
If you are searching for Sedona licensed painters or, licensed painting contractors near me, we invite you to consider SCPC Painting Company. We have been Sedona's house painters of choice for over 20 years. We provide both exterior and interior house painting in Sedona, Cottonwood, Jerome, Clarkdale, Page Springs, Village of Oak Creek and Camp Verde.
Please feel free to contact us for a comprehensive no-obligation quote for your next house painting project.